Certificate
Certificate of the Seminary
No undergrad, no problem! This program offers access to graduate level studies for students without an undergraduate degree.
Learn and grow in an academic context designed to train you for effective service. This program pairs foundational core courses in Bible, theology, and personal formation for ministry with courses in your area of passion to prepare you for a variety of ministry roles.
Whether you are learning more about a particular topic or working towards a graduate degree with Briercrest Seminary, this program is designed to propel you into further service or study.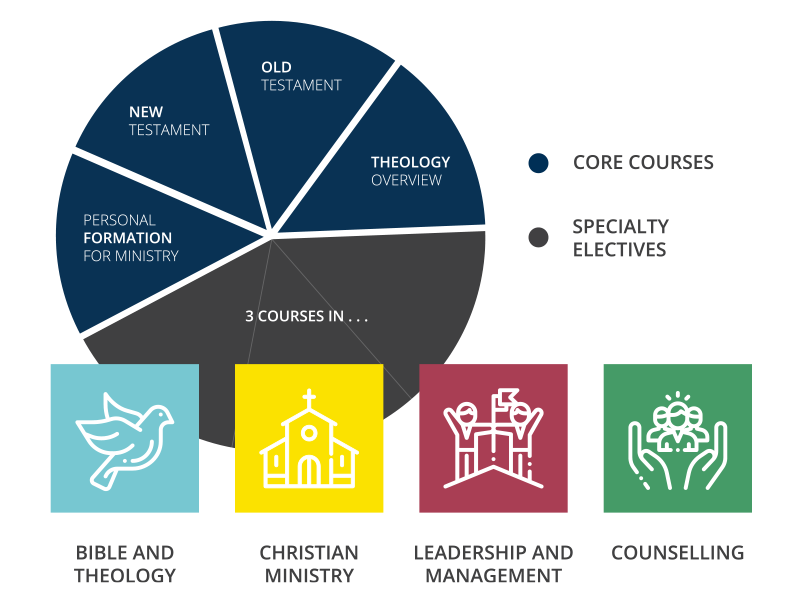 Accessible education
Take advantage of education that works for you. Most courses happen in either a week-long modular format or online, so you can access training that is relevant in your context without leaving it.
Pathway to a Master's
This program is designed to propel you into further service or study. Certificate grads who want further training can use their credits towards select graduate programs at Briercrest Seminary.
Relevant training
Tailor your certificate to suit your needs. Along with four broad core courses, three specialty elective options allow you to explore topics in Bible and theology, Christian ministry, leadership and management, and counselling.
The Certificate of the Seminary is designed for individuals seeking to learn and grow in an academic context. Upon completion of the certificate, and with the approval of the seminary faculty, students may use the accumulated credits toward select graduate programs at Briercrest College and Seminary. Certificate students must complete the courses required for the Certificate prior to beginning any courses to be used toward a different program of study.
Credit Hours:
21
I. Core (12 credit hours)
In consultation with the program coordinator, students will choose one course from each of the following disciplines:
Personal Formation for Ministry *
New Testament
Old Testament
THEO 601 Christian Theology Overview **
II. Electives (9 credit hours)
Specialty Electives (from one area of study) ***
* Must include one of the following: CM 600 Spiritual Formation for Ministry; CM 601 Philosophy and Foundation for Ministry; LE 605 Personal and Service Development.
** With permission of the program coordinator, a student with sufficient background in theology may replace this course with one course in history or theology.
*** Biblical Studies and/or Theological Studies and/or History, Christian Ministry, Experiential Ministry (exempt from RD 700), Leadership and Management, Counselling.
Program Sheet(s)