Jason Mills,
PhD
Assistant Professor of Spiritual Theology
Dean of the Seminary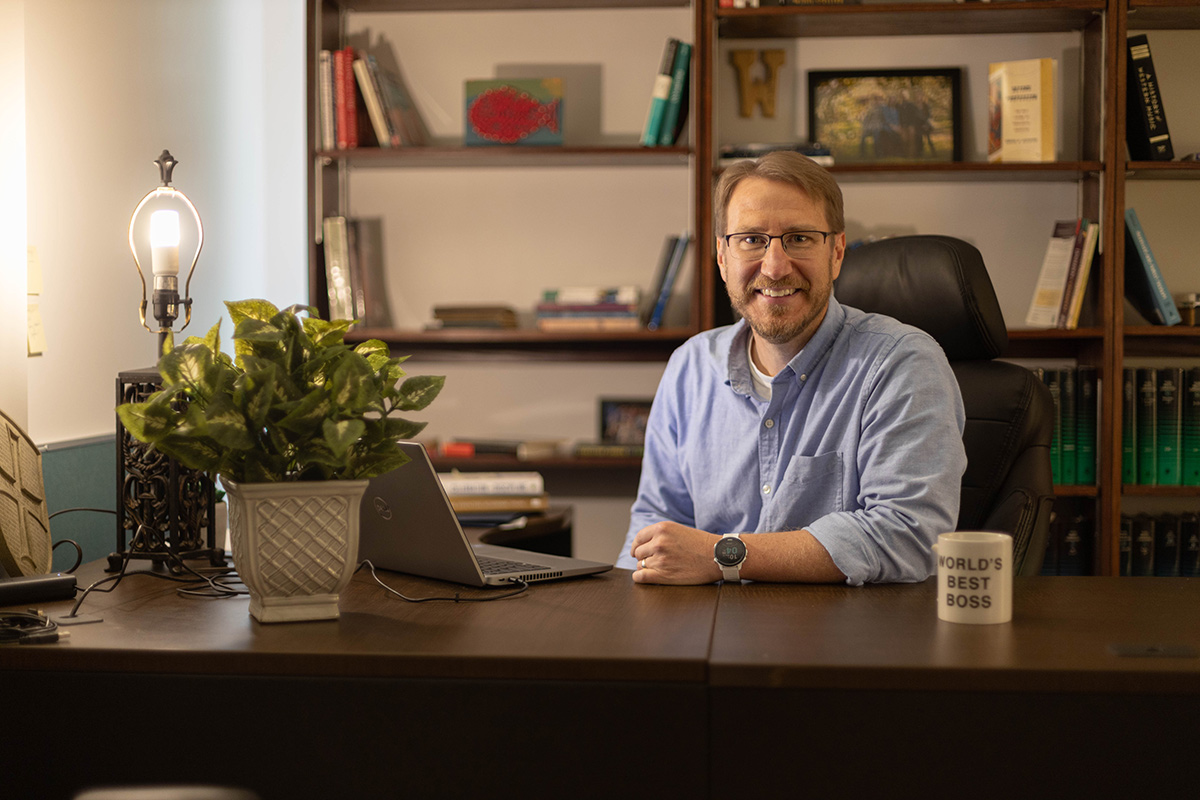 [javascript protected email address]
306.801.4720
Jason Teaches:

Introduction to Spiritual Theology
Introduction to Christian Theology
Public Speaking
Introduction to Chaplaincy and Spiritual Care
Lifespan Development
Teaching Philosophy
Having been shaped by Paulo Freire's pedagogy, I see teaching as a form of liberation. Good teaching releases students to think freely and differently about their world. I want my students to see themselves as educators of educators and students of students.
Background
I am an educator researching ministry and technology, online theological education, pastoral formation and spiritual theology. My wife and I are both ordained Free Methodist chaplains/pastors and parents to two amazing children. I enjoy making pizza, swimming, and prairie tailwinds when biking. You can find my blog at www.jasonmills.ca.
Education
PhD Theological Studies - University of St. Michael's College (2021)
MA Christian Studies - McMaster Divinity College (2006)
BTh - Emmanuel Bible College (2000)
Research
The Future of Theological Education
Technology and Online Education
Spiritual Care and Chaplaincy (Military and Health Care)
Pastoral Formation and Virtue Development
Publications
Books:

Glassroom Learning: Virtual Culture and Online Pastoral Education. Eugene, OR: Pickwick, 2023.

Journal articles:

"Is Supervised Pastoral Education (SPE) 'Substantially Equivalent' to a Recognized Psychotherapy Program?"  Journal of Pastoral Care and Counseling 76, no. 4 (2022): 114-128.

Book reviews:

"Wendy Cadge and Shelly Rambo, eds. Chaplaincy and Spiritual Care in the Twenty-First Century: An Introduction." (Chapel Hill: The University of North Carolina Press, 2022). Religious Studies Review. Vol 49, No. 2 (June 2023): 211-212.
"James W. Watson and Narry F. Santos, eds., Tentmakers: Multivocational Ministry in Western Society." (Eugene, OR: Wipf and Stock, 2022). Faith Today. (May-Jun 2023). https://www.faithtoday.ca/Magazines/2023-May-Jun/Tentmakers-Multivocational-Ministry-in-Western-So 
"Aleshire, Daniel O., Beyond Profession: The Next Future of Theological Education." (Grand Rapids, MI: Eerdmans, 2021). Toronto Journal of Theology. Vol. 38, No. 1 (Spring 2022): 115-117.
"Wheeler, Barbara G., ed., Disruption and Hope: Religious Traditions and the Future of Theological Education." (Waco, TX: Baylor, 2019). Toronto Journal of Theology. Vol 38, No. 1 (Spring 2022): 117-118.
"Hughes, Aaron W., From Seminary to University: An Institutional History of Religion in Canada." (Toronto, ON: University of Toronto Press, 2020). Toronto Journal of Theology. Vol. 37, No. 2 (Fall 2021): 231-232.
"Benjamín Valentín, ed., Looking Forward with Hope: Reflections on the Present State and Future of Theological Education." (Eugene, OR: Cascade, 2019). Toronto Journal of Theology. Vol. 37, No. 1 (Spring 2021): 123-124.