Briercrest Seminary Expands Collaboration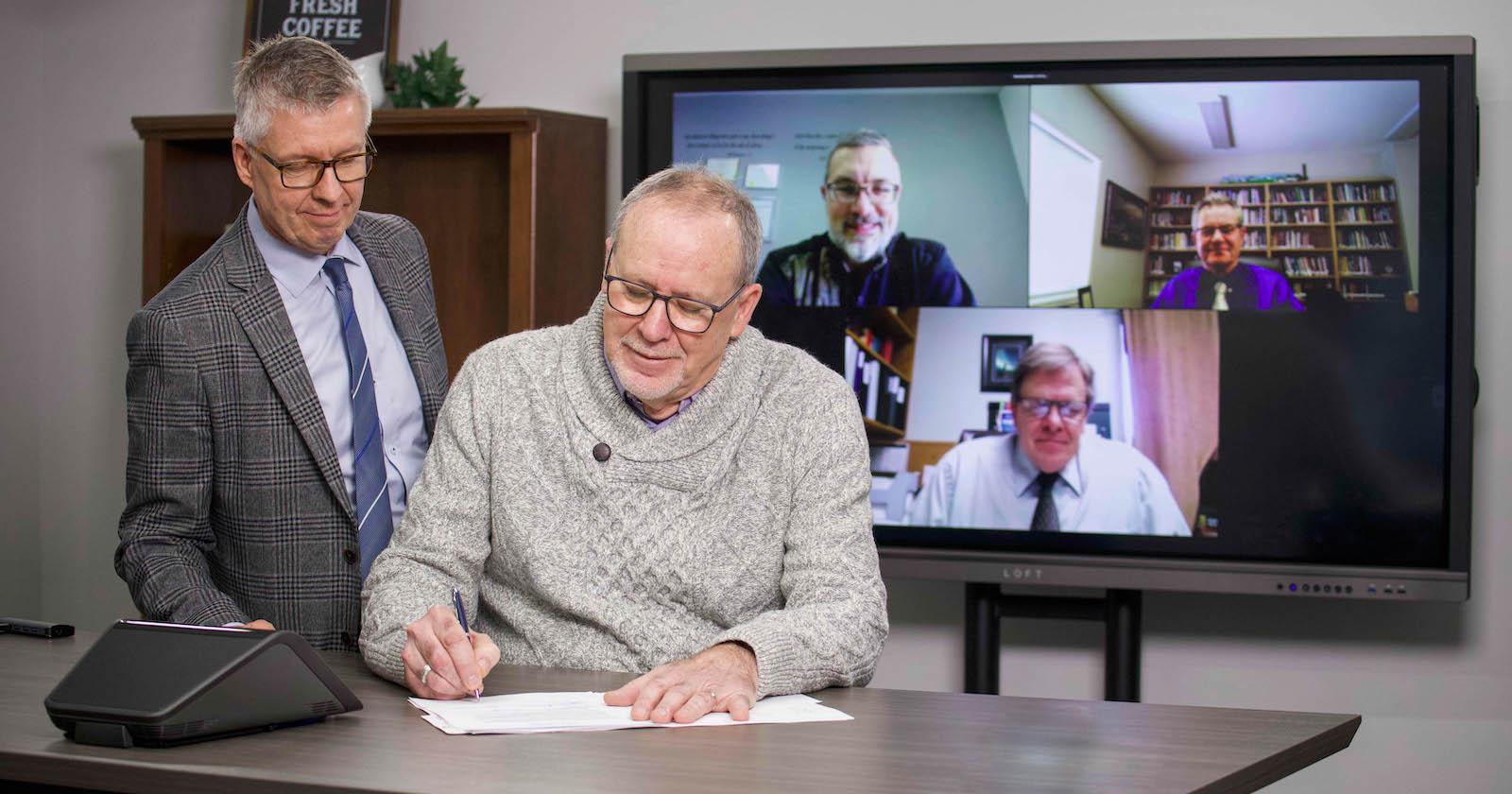 On January 6, 2022, President Michael Pawelke and Blayne Banting, Dean of Briercrest Seminary, met virtually with the presidents of three other Christian colleges, Phil Ruten (Millar College of the Bible), John Loge (Nipawin Bible College), and Kim Cairns (Peace River Bible Institute).
The five met to ratify an agreement benefiting any of their graduates applying to Briercrest Seminary. Graduates from accredited institutions complete a simpler application process, but Briercrest Seminary students who began their academic journeys at Millar College of the Bible, Nipawin Bible College, and Peace River Bible Institute have historically demonstrated excellent preparation for graduate studies.
In recognition of the quality education taking place at these three schools, Briercrest Seminary extended the invitation to create a Memorandum of Agreement. The agreement establishes:
"A four-year degree from [a signatory institution] is considered to meet the academic requirements for admission to the Master of Divinity, Master of Arts (Leadership and Management or Marriage and Family Therapy degrees), Master (Counselling and Christian Ministry degrees), the Certificate of the Seminary programs and Leadership Certifications, subject to standard qualifications."
In compliance with ATS standards, applications to the academic Master of Arts programs (Theological Studies and Bible Languages & Exegesis) remain subject to a more rigorous degree of scrutiny.
For Nipawin Bible College, this marked the renewal of their existing agreement. President John Loge spoke appreciatively: "In a day and age when there is splintering and division so prevalent in the body--we are actively working together to provide excellent Biblical education. May our desire to work together to train men and women to be the next generation of church leaders be evident to the world and the church alike."
The event marked new agreements with Millar and PRBI.
Phil Ruten commented: "We're grateful to be streamlining this for our students, recognizing the work that they have done… we're also grateful for the recognition this is of the education that happens at all three of these schools."
Kim Cairns agreed: "We've had lots of opportunities to partner with Briercrest College, having our students fill in courses they needed and we're thrilled that the relationship can extend into the seminary."
The agreement is designed to benefit students of Millar, Nipawin, and PRBI who are interested in further studies while strategically promoting the enrollment efforts of all four schools.
Robert Bachmann, seminary enrolment representative, explained: "Briercrest Seminary naturally benefits as potential students see increased ease in the application process, but we are happy that it benefits the others schools' enrolment numbers as well. Being that the agreement stipulates a four-year degree meets the admission requirements, it will encourage students at the other schools to take a fourth year, which is generally optional for them."
As collaboration expands between Briercrest and partners with shared values, the ministry in Caronport continues to be "a community of learning that calls students to seek the kingdom of God, to be shaped profoundly by the scriptures, and to be formed spiritually and intellectually for lives of service."